Last saturday we went to the Florence. We were at 11 am on the spot. My first impression was that Florence is much nicer than Bologna and of course there was more tourists. We had an hour of free time so I went with the girls to buy souvenirs. I bought magnets and snow balls for friends and family. At 12 o'clock we met with our group near the Basilica Santa Maria del Fiore and we went for dinner.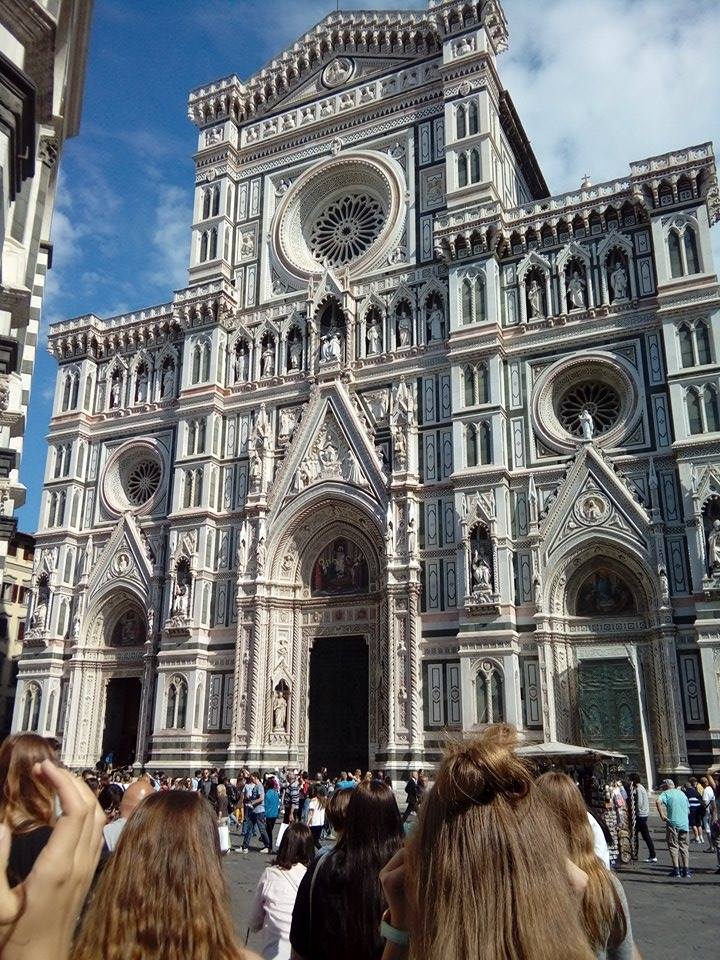 At dinner we could try the Italian lasagna, which was delicious. Next dish was the roast with chips and salads. It was as good as lasagna. For dessert we got ice cream, but I could not try them because I was ill.
After dinner we went to the courtyard to meet the guide. The center was very beautiful, there was plenty of space and the boy sang and played the guitar – he gave a magical climate. The guide told us the stories of the city and then we went to the Basilica Santa Maria del Fiore. I had a little trouble because I had short pants and top so they could not let me inside, but my friend came and gave me shirts to wear and then I went inside. The Basilica in the middle is very minimalist and modest, but still very nice. I liked the ceiling the most which featured hell, sky and purgatory.
Then we walked around the city and listened to the story of Florence. We walked through the next courtyard where there were lots of people. I remember the most the huge statue of David. There were also other dowries like Perseus with the head of the Medusa.
Then we went past the Ponte Vecchio and took a group photo. We still walked around town, we went to boar II Porcelinno, which when you sniff the nose,you will come back to Florence in the future.
After all we went to the station and returned to the house at 18 pm. In Florence I really liked the buildings and the street painters. If someone is going to Italy it's a must to go to Florence because it is worth it.